How often should I have my piano tuned in Canterbury?
For example, if you play piano in Canterbury several hours a day, and work to a performance standard, it is quite likely, that for your own piece of mind, and that of your listeners, you may need to have your instrument tuned frequently. This could be as often as once a week. But, experience can be a good guide. If you are a parent with a child in school who is learning to play the piano, routine maintenance becomes important. For, a student feels frustrated if clashing notes or poorly functioning and badly regulated action parts foils his or her attempts. We recommend for a family with a piano in general uses that the tuner visit no less than every 6 months. Often more frequent visits may be necessary this isn't out of the ordinary.

The piano is a highly developed, complicated piece of equipment. It contains approximately 240 different lengths of highly tensioned wire, with approximately 160 lbs. of pressure per string and a 15% increase in the bass. This produces an overall strain on the frame of about 21 tons. These lengths of wire make up 85 to 88 notes spread across the musical range. Each note has its own individual mechanism, the combined total of which in the case of an upright piano adds up to 14,000 moving parts. In the case of a grand, the total reaches as high as 22,000 parts. the piano must be maintained at a specific tension to achieve a good musical sound, the matter of maintenance becomes an on-going process. A piano consists mainly of wood and iron, and both materials are subject to movement. The movement of the wooden soundboard and the frame causes the wires to change tension without prompting by the user. Thus, it becomes necessary to set up a minimal schedule of tuning of the instrument to ensure reliable and pleasing results. This schedule isn't a hard and fast one, but we can make recommendations and set out guidelines. Once a year is a minimum for most pianos. Most piano makers recommend twice a year and some three times a year.

Humidity and Temperature in Canterbury have a big effect on pianos staying in tune more so than playing. Quite a lot of homes in the months of November to April tend to have a humidity range from 38% 40% and from April to November 40% to 65% and some as low as 20%. This swing makes the soundboard swell and shrink this up and down movement pull and loosens the piano strings putting the piano out of tune. Pianos that are in rooms with the humidity below 38% for several months are causing the piano long-term damage.
Why maintain a piano in Canterbury?
The piano is a highly developed, complicated piece of equipment. It contains about 240 different lengths of highly tensioned wire. (Approx. 160lbs per note and a 15% increase in the bass giving you an overall strain on the frame of 21 tons approx.) These lengths of wire make up 85 to 88 notes spread across the musical range. Plus, for each note, there exists a mechanism, which in the case of an upright piano contains up to 14 different moving parts. In the case of a grand up to 22 per note.
What is the first step towards purchasing a piano
Purchasing a new or second-hand piano for you and your family can create a lifetime of pleasure and intellectual stimulation for you and the family. Before you spend any money on either a new or secondhand piano, a little preparation goes a long way so that you buy a piano that is appropriate for your needs.
The first step in choosing a piano involves establishing your musical needs, decor and size of the room. Talk to your piano teacher and tuner. A piano will provide elegance, education and beauty to your home, You Need an instrument that will play properly and compliment your home's decor. Musically, you need to select a piano that has a touch plus a musical tone that you find pleasing.
The best way to accomplish this is to take your Tuner and visit a piano dealer. Find a dealer that has a large selection of new and used pianos at various prices. It is important that you sample a wide variety of pianos. When you play each piano, discover which piano has the touch most responsive to your fingers. Listen to many pianos to discover which tone is most desirable to you. You will also have an opportunity to view different styles and finish. You can select a piano that fits into the decor in your home. Once you discover what you want to purchase, and have an idea of the cost,
Purchasing a piano in Canterbury Kent?.
Where is it going to live? .Not in a conservatory or in direct sunlight.
Piano Jargon Explained.
Straight strung bass stringing is where the bass strings only impart vibrations to a vertical area on the left side of a piano and the stringing is shorter in length making for a thinner sound.
Overstrung is.Where the Bass strings go diagonally from top left to bottom right of the piano.Imparting string vibration to the sound board Making for a better tone than its former straight strung pianos.
Overdamped Mechanism inferior to say post 1920 pianos (with exceptions). Underdamped Mechanism unsustaining notes is superior.
Before purchasing a piano, always get advice from a Piano tuner or Teacher as to its fitness for purpose.Aim to get one that is modern, newer is better than old.A pretty inlaid piano with candlesticks needs very careful vetting and is most likely to be straight strung and overdamped. Visit a piano dealer that has a large selection of new and used pianos in order to see just what is available and your likely outlay. When you play each piano listen to the tone and feel the touch both are important, each note should play and sound when the same pressure is applied to it. your tuner or teacher will advise you on the pitch the piano is tuned to which must be at or near A440 Hz. As an investment, consider that most pianos costing £ 60 70 years ago may fetch 4 times that today.
Buying a grand piano Very nice but needs a lot of space.A totally different feel when playing the keys and generally a big sound. A baby grand is sometimes considered a compromise in sound but has a good touch.
Buying an Upright piano comes in many sizes and styles .it could be argued that a bigger tall upright is better in sound than a baby grand. My recommendation is Find the piano you could live with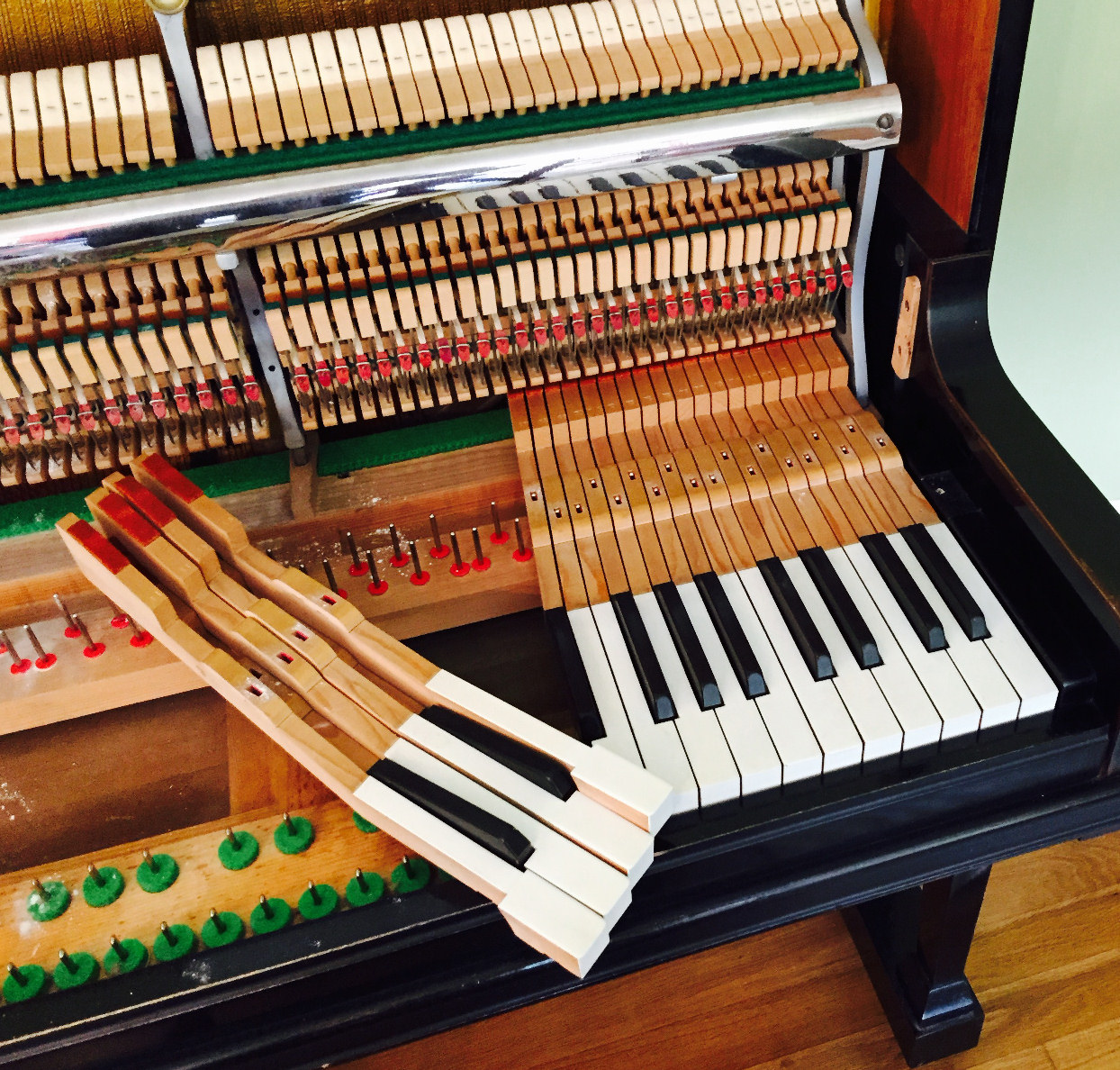 What do the Manufacturers say:
Kembles
Tuning and Regulation:
Pianos are delicate instrument: which need professional attention periodically. Basically, there are two types of professional piano care: tuning and regulation. Tuning means correcting the pitch of every note by re-tightening the strings. Each piano string is normally stretched to a tension of about 90 kilogrammes (198.5 pounds), but eventually, it will stretch further with use and lose some of its tension, causing the piano to lose its correct pitch. The strings need to be tuned generally twice a year to restore them to their proper tension.

>Regulation involves the entire piano action, keyboard and pedal movements. Whether the piano will perform properly or not depends on how accurately the adjustment is made.

Tuning and regulation should be done by an expert. When your piano requires either one, ask your Kemble dealer or just call a specialist in the Canterbury area. Your dealer can also advise you about the interval between adjustments for your piano under the circumstances in which it is used.

Your Kemble Piano must be regularly tuned by a qualified tuner or technician We recommend this is done at least twice a year.

Kemble & Co Ltd.
Yamaha Pianos
Where to locate your piano in your home, school, church or institution in Canterbury :
Put your piano where it sounds best: The piano should be placed in a room where the sound will be evenly distributed. A room where all the sound gathers in one spot will produce sound lag and echoes. The best room for your piano is one in which its sound will reverberate to produce pleasant, full-bodied tones without harsh echoes.
Optimize your piano's environment:
Proper conditions mean better sound: Pianos work best and sound best when the temperature and humidity are right. Proper ventilation is also important. Generally speaking, a relative humidity of between 40 and 45 percent is ideal for pianos. The use of materials such as wood, felt and cloth in piano construction means that many parts are quite delicate. If not properly cared for, they can be damaged easily. Therefore, we are unable to assume responsibility for damage resulting from abuse, harsh treatment, or extended exposure to adverse conditions.

How humidity affects a piano: Felt, cloth, leather and the precision wood parts, some of them machined to tolerances as fine as 1/100mm-used in such critical parts of the piano as the action, are extremely sensitive to humidity. Too much humidity will result in dull hammer action and unclear tones, rusting of internal parts and sticking keys. Before this happens the humid condition should be addressed and the piano should be serviced.
Adopt a schedule of regular tuning and service:
Why schedule regular service? Having your piano serviced regularly in Canterbury is a lot like taking vitamins. As you regularly take vitamins, you generally feel better and you are able to perform at your peak level. Also, taking vitamins helps you avoid serious illnesses and other health-related problems. The same is true regarding regular service for your piano. Regular service will keep your piano's performance (and your enjoyment) at its peak level. It will also correct "progressive" problems early before they turn into costly repairs. For these reasons Yamaha strongly recommends that you adopt a schedule of regular service for your piano.
Tuning and adjustment:
Pianos are delicate instruments that need professional attention periodically. Basically, there are two types of professional piano care: tuning and adjustment. Tuning means correcting the pitch of every note by retightening the strings. Each piano string is normally stretched to a pressure of about 90 kilogrammes (198pounds). Eventually, though, it will stretch further with use and lose some of its tension, causing the piano to lose its correct pitch. The strings need to be tuned a minimum of twice a year to restore them to their proper tension.

Adjustment involves the entire piano action, keyboard and pedal movements. Proper adjustment is especially important for grand pianos. Whether the piano will perform properly or not depends on how accurately the adjustment is made. Tuning and adjustment should always be done by an expert. When your piano requires either one, ask your Yamaha dealer or call a specialist tuner Your Tuner can also advise you about the interval between adjustments for your piano under the circumstances in which it is used.
Kawai Pianos
Cleaning:
Kawai pianos are finished with a variety of finishes, from fine hand-rubbed lacquer to beautiful high gloss polyester resin. Care of these diverse finishes is essentially the same. The beauty of the instrument can be maintained with the following guidelines:
Dust should be removed using a soft feather or wool-type duster. Care should be taken not to apply pressure to the finish or to drag the dust across the finish, which can create fine scratches on the surface. These fine scratches will eventually leave a high gloss instrument looking dull. Being very careful with regular dusting is the most important step in retaining the gloss in a polished polyester finish.
Fingerprints or similar marks can be cleaned with a dampened soft cloth, followed by a dry cloth. In cases of stubborn greasy dirt, using a small amount of mild detergent (such as mild dishwashing liquid) on the damp cloth may help, as can a high-quality spray window cleaner such as Windex
In general, furniture polishes are not recommended except for specialised polishes for high-gloss finishes. One such polish is "Cory" Polish, available from your authorised Kawai piano dealer, and many piano tuner-technicians.
If a high-gloss finish becomes dull or is deeply scratched, the finish can usually be restored to its original appearance by a polyester repair specialist. .
The interior of the piano should be cleaned periodically by a qualified piano technician. Improper cleaning of the plate, strings, soundboard and action may result in damage to the piano. We recommend this be left to a trained technician.
Tuning and Service:
All pianos need to be tuned regularly. The amount of time between tunings for a fine instrument depends on many factors, especially the stability of the temperature and humidity and the amount of use the piano receives. In general, Kawai recommends 2 to 4 tunings per year. However, your piano tuner-technician can best recommend the appropriate interval for your specific environmental conditions and use.

Pianos also need to be serviced in ways other than simple tuning. The action mechanism and the hammers are subject to wear through use. Periodic voicing and regulation will keep the piano sounding its best throughout the life of the instrument. In general, if the touch or tone of your piano seems uneven, difficult to control, or the notes do not repeat well, you should speak with your piano tuner-technician about the need for regulation and voicing.
C. Bechstein
Maintenance preserves the value of your piano
Regular maintenance preserves the value of an upright or grand piano. Maintenance includes tuning, adjustment and voicing. For each instrument responds sensitively to climate changes as well as regularity of use. And only if you have your instrument serviced regularly, will it keep its high quality.
All climate changes
-
shifts in humidity and temperature - affect your sensitive instrument. The mechanical stresses on your instrument as well as temperature and humidity changes have an impact on the tension of the strings. Therefore, over time, the tuning starts to become irregular. Your piano should be tuned at least twice a year. Treat your upright and your grand piano to a regular tuning service by designated piano technicians. This preserves the value of your instrument and your musical enjoyment. It's worth it.
The keyboard and action requires
thousands of individual parts. Over time, normal use causes changes in the efficiency and harmony of these elements interacting with one another. Adjustment by designated professionals brings everything back into perfect harmony. An adjustment of the mechanics, keyboard and pedals harmonises all elements and restores perfect interaction. Only if you play music with a perfectly adjusted and tuned instrument, can it be the appropriate partner for you? A qualified technician will really bring out the best from your instrument. Your listening habits, your touch and your complete satisfaction are consciously or unconsciously influenced by the condition of your instrument.
The impact of hammer-head
felt on the strings causes different compression. In voicing, purposefully piercing the hammer-head felts restores their elasticity and equalises tone colour and quality. Voicing adjusts your instrument perfectly to the acoustical characteristics of your space. Musical work, however, leaves its mark. New voicing from time to time renews harmonious symmetry for a flawless listening experience.
History and Musical Heritage of Canterbury
Canterbury (is a historic English cathedral city and UNESCO World Heritage Site, which lies at the heart of the City of Canterbury, a local government district of Kent, England. It lies on the River Stour.

The Archbishop of Canterbury is the primate of the Church of England and the worldwide Anglican Communion owing to the importance of St Augustine, who served as the apostle to the pagan Kingdom of Kent around the turn of the 7th century.

The city's cathedral became a major focus of pilgrimage following the 1170 martyrdom of Thomas Becket, although it had already been a well-trodden pilgrim destination since the murder of St Alphege by the men of King Canute in 1012. A journey of pilgrims to Becket's shrine served as the frame for Geoffrey Chaucer's 14th century classic The Canterbury Tales.

Canterbury is a popular tourist destination: consistently one of the most-visited cities in the United Kingdom, the city's economy is heavily reliant upon tourism.

The city has been occupied since Paleolithic times and served as the capital of the Celtic Cantiaci and Jute Kingdom of Kent. Many historical structures fill the area, including a city wall founded in Roman times and rebuilt in the 14th century, the ruins of St Augustine's Abbey and a Norman castle, and the oldest extant school in the world, the King's School.

Canterbury remains, however, a small city in terms of geographical size and population, when compared with other British cities.

Music: Polyphonic music written for the monks of Christ Church Priory (the cathedral) survives from the 13th century. The cathedral may have had an organ as early as the 12th century though the names of organists are only recorded from the early 15th century. One of the earliest named composers associated with Canterbury Cathedral was Leonel Power, who was appointed master of the new Lady Chapel choir formed in 1438. The Reformation brought a period of decline in the cathedral's music which was revived under Dean Thomas Neville in the early 17th century. Neville introduced instrumentalists into the cathedral's music who played cornett and sackbut, probably members of the city's band of waits. The cathedral acquired sets of recorders, lutes and viols for the use of the choir boys and lay-clerks.

As was common in English cities in the Middle Ages, Canterbury employed a town band known as the Waits. There are records of payments to the Waits starting from 1402, though they probably existed earlier than this. The Waits were disbanded by the city authorities in 1641 for 'misdemeanors' but were reinstated in 1660 when they played for the visit of King Charles II on his return from exile. Waits were eventually abolished nationally by the Municipal Corporations Act of 1835. A modern early music group called The Canterbury Waits has revived the name.

The Canterbury Catch Club was a musical and social club which met in the city between 1779 and 1865. The club (male only) met weekly in the winter. It employed an orchestra to assist in performances in the first half of the evening. After the interval, the members sang catches and glees from the club's extensive music library (now deposited at the Cathedral Archives in Canterbury).

The city gave its name to a musical genre known as the Canterbury Sound or Canterbury Scene, a group of progressive rock, avant-garde and jazz musicians established within the city during the late 1960s and early 1970s. Some very notable Canterbury bands were Soft Machine, Caravan, Matching Mole, Egg, Hatfield and the North, National Health, Gilgamesh, Soft Heap, Khan, Camel and In Cahoots. Over the years, with band membership changes and new bands evolving, the term has been used to describe a musical style or subgenre, rather than a regional group of musicians.

During the 1970-80's the Canterbury 'Odeon' now the site of the 'New Marlow' played host to many of the Punk and new wave bands of the era including, The Clash, The Ramones, Blondie, Sham69, Magazine, XTC, Dr Feelgood, Elvis Costello and The Attractions, and The Stranglers.

The University of Kent has hosted concerts by bands including Led Zeppelin. During the late seventies and early eighties the Canterbury Odeon hosted a number of major acts, including The Cure and Joy Division. The Marlowe Theatre is also used for many musical performances, such as Don McLean in 2007, and Fairport Convention in 2008. A regular music and dance venue is the Westgate Hall.

The Canterbury Choral Society gives regular concerts in Canterbury Cathedral, specialising in the large-scale choral works of the classical repertory. The Canterbury Orchestra, founded in 1953, is a thriving group of enthusiastic players who regularly tackle major works from the symphonic repertoire.

Other musical groups include the Canterbury Singers (also founded in 1953), Cantemus, and the City of Canterbury Chamber Choir. The University of Kent has a Symphony Orchestra, a University Choir, a Chamber Choir, and a University Concert Band and Big Band.

The Canterbury Festival takes place over two weeks in October each year in Canterbury and the surrounding towns. It includes a wide range of musical events ranging from opera and symphony concerts to world music, jazz, folk, etc., with a Festival Club, a Fringe and Umbrella events. Canterbury also hosts the annual Lounge On The Farm festival in July, which mainly sees performances from rock, indie and dance artists.

The reggae/ska musician Judge Dread played his last gig at the Penny Theatre. His final words were "Let's hear it for the band." He then went offstage, suffered a major heart attack and died, despite help from both ambulance crews and the audience.
Famous musicians, composers with an association with Canterbury include:
Thomas Tallis (c. 1505–1585), became a lay clerk (singing man) at Canterbury Cathedral c. 1540 and was subsequently appointed a Gentleman of the Chapel Royal in 1543.
John Ward (1571–1638), born in Canterbury, a chorister at Canterbury Cathedral, composed madrigals, works for viol consort, services, and anthems.
Orlando Gibbons (1583–1625), organist, composer and Gentleman of the Chapel Royal, who died in Canterbury and was buried in the cathedral.
William Flackton (1709–1798), born in Canterbury, a chorister at Canterbury Cathedral, was an organist, viola player and composer.
John Marsh (1752–1828), lawyer, amateur composer and concert organiser, wrote two symphonies for the Canterbury Orchestra before moving to Chichester in 1784.
Thomas Clark (1775–1859), shoemaker and organist at the Methodist church in Canterbury, composer of 'West Gallery' hymns and psalm tunes.
Sir George Job Elvey (1816–1893), organist and composer, was born in Canterbury and trained as a chorister at the cathedral.
Alan Ridout (1934–1996) educator and broadcaster, composer of church, orchestral and chamber music.
Sir Peter Maxwell Davies was appointed an Honorary Fellow of Canterbury Christ Church University at a ceremony in Canterbury Cathedral.
Many Canterbury Cathedral organists composed services, anthems, hymns, etc.